Edward R. Roberts 1880 - 1888
Edward R Roberts was "a resident of this Springfield for over thirty years and during that time won the friendship of a host of citizens who will long cherish his memory". Born in Tazewell County in 1843, Roberts was one of the first classes to graduate from the "old high school building". After high school, Roberts enlisted in Company I, Seventh Illinois Infantry as a Private. Five months later, Private Roberts was promoted to Second Lieutenant. Roberts then secured the rank of Captain of Company C, and finally, Captain. At the close of the war, Captain Roberts was ranked and recognized as a Colonel by President Andrew Johnson.

Companies G and I were from Sangamon and Fayette counties and Carlinville.
Roberts was a Prisoner of War at Columbia, S.C. for many months toward the end of the war. Roberts escaped the camp the same day that Springfield native Major Edward Strickland did. The two both came immediately to Springfield (separately) and met on the street.
After safely returning home, Roberts served two terms as comptroller, and then two terms as Circuit Clerk from 1880-1888. After these two terms, Roberts was appointed chief clerk in the same office. Shortly after this, Roberts was selected to be the state bank examiner under Auditor Gore and held this prestigious position until his death.
Roberts was active in the Springfield community as a member of St. Paul's Lodge and "always took an active interest in the welfare of the society."
At the time of his death, Roberts left behind his wife and three sons.
The State Journal Register, Obituaries, October 16, 1897. Accessed August 9, 2011. Sangamon Valley Collection, Lincoln Library. Microfilm.
Savannah Little researcher
---
Illinois sent six infantry regiments to the Mexican War. Thus when the Civil War began the first regiment raised was numbered "7." The 7th was originally organized as a "three month" regiment but was reorganized and mustered into the Union Army for three years' service July 25, 1861.
The men of this Regiment served from Elgin and vicinity (Company A, Kane County), Mattoon and vicinity (Company B, Coles County), Aurora and vicinity (Company C, DuPage and Kendall Counties), Litchfield, Lincoln and Atlanta and vicinity (Companies D, E and H, Alexander, Logan and Montgomery Counties), Springfield and vicinity (Companies G and I, Sangamon and Fayette Counties) and Carlinville and vicinity (Companies F and K, Macoupin County).
The Seventh was the only regiment in the Union Army that purchased its own guns and armed itself with the 16-shot Henry rifle. Early in 1862 the Regiment was sent to Fort Henry then on to Fort Donelson where it took part in the final charge on the Fort. The Seventh fought April 6 and 7 at Shiloh then April 29-May 30 at the Siege of Corinth. After pursuit of the enemy southward to Booneville, Mississippi in June they remained on duty at Corinth until October 3 and 4 when they fought in the battle of Corinth. In 1863 the men saw action in Alabama at Great Bear Creek and at Cherokee; the remainder of the year the Regiment scouted, patrolled and skirmished in Tennessee. January 1864 the Seventh re-enlisted as veterans and reinforced with 200 recruits, became a mounted regiment patrolling the Tennessee River. They fought at Florence and Sweetwater and in June were dismounted and moved to Chattanooga, Tennessee.
In July the Seventh was ordered to Tifton, Georgia then on to Rome, Georgia where they remained until October. The Regiment saw action at Etowah River on September 15; in a savage battle at Allatoona Pass, October 4 and 5, the Seventh held off a rebel Division of six thousand men.
In November the unit was remounted for Sherman's March to the Sea. Over the next five months the Regiment fought at Savannah, Georgia, and in South Carolina at Hickory Hill, Salkehatchie Swamps, South and North Edisto Rivers, Columbia, Cheraw and Florence. March 19-21 the Seventh was engaged at Bentonville, North Carolina; they marched to Goldsboro, then on to Raleigh on April 14. Following Johnston's surrender they marched to Washington DC via Richmond, Virginia to participate in the Grand Review on May 24. The Seventh Illinois Infantry Regiment mustered out July 9, 1865 at Louisville, Kentucky.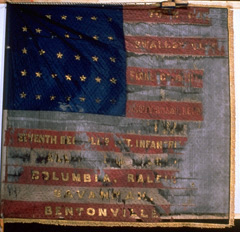 7th; Illinois Infantry National Flag
Summary:
There were four National flags turned in to the Governor by the 7th Illinois Infantry. The one shown here is inscribed with battle honors.

(See Details for honors).

Details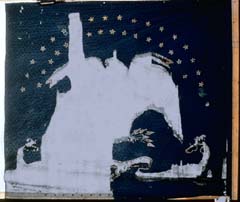 7th; Illinois Infantry Regimental Flag
Summary:
The center portion of this flag appears to have been cut out. This flag measures 74 x 68". See "Flag Details" regarding the first set of colors of this Regiment.

Information about the Seventh Illinois was found at: http://www.civil-war.com
Please pay them a visit to learn more about the civil war.
The Circuit Clerk Lookup System may be
unavailable periodically for maintenance.

All fees collected by the Circuit Clerk are mandated by law.

Main Phone
217 753-6674

circuitclerk@co.sangamon.il.us

The Circuit Clerk Lookup System may be
unavailable periodically for maintenance.

All fees collected by the Circuit Clerk are mandated by law.

Main Phone
217 753-6674
Contact Us by Email
circuitclerk@sangamonil.gov