Joseph P. Knox 1956 - 1968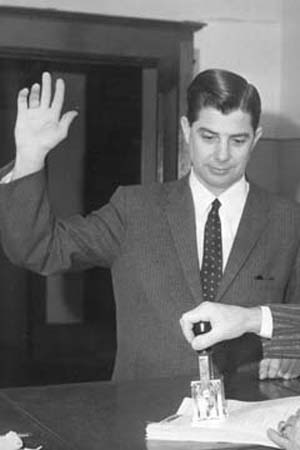 Joe Knox Feb. 10, 1925 – June 26, 2009
'Nobody speaks for me.' Illinois Times
"Nobody speaks for me," is the quote longtime political writer Gene Callahan remembers from covering the career of Joseph P. "Joe" Knox, who died at age 84 on June 26, 2009.

Once a powerhouse vote getter in Sangamon County Democrat politics, Knox was elected Sangamon County Clerk of the Circuit Court in 1956 and reelected in 1960 and 1964. In 1967 and again in 1971 he was elected Springfield's Commissioner of Public Health and Safety.

"I was writing five political columns a week for the (now-defunct) Illinois State Register," recalls Callahan, who was also a downstate stringer for Time Magazine and the New York Times.

"In the 1960s and 70s I watched Joe Knox rack up the largest vote totals any Democrat ever got in Sangamon County. Once I wrote a story and referred to one of his employees as his spokesman. I got a call from Joe setting me straight that he was his own man, and believe me, I never made that mistake again. He was a tough cookie and nobody took him for granted.

"He had guts, and wasn't afraid to go his own way. In 1960 the Democrat leaders were all supporting Otto Kerner for Illinois governor. Not Joe. He supported Democratic National Committee Chairman Stephen Mitchell, and he stuck with him even though the party establishment went the other way."

The youngest of nine children — eight boys and one girl — Joe Knox was the scion of a strong political family. His father was J.P. "Cotton" Knox, who was elected Sangamon County coroner in Franklin D. Roosevelt's 1932 national Democrat landslide. He eventually ran unsuccessfully for state representative.

Educated in Springfield's Catholic schools, Joe Knox was a Golden Gloves boxer and basketball standout. A fixture at Bunn Park golf course until his death, he scored not one but two holes in one. In 2006 he was inducted into the Springfield Sports Hall of Fame.

His only surviving sibling, Paul, 86, a retired Springfield fireman, remembers him as "the baby — the youngest boy so we all looked out for him until we realized he didn't need anyone to take care of him. We were all scrappers. Some of us got our dad's fair coloring but Joe got our mom's dark good looks."

"Seven of us served in World War II. Three in the Army, three in the Navy and one Marine. Joe earned six Navy battle stars in New Guinea and the Philippines."

With an intact record for winning elections, Joe Knox bowed out of politics in the mid-1970s. Paul Knox recalls people urging his brother to run for mayor of Springfield, but after two terms on the Springfield City Council he thinks Joe had simply had enough of politics. Instead, he took a job managing nursing homes throughout the Midwest, and faded from the local political scene.

"I think he'd like to be remembered as a straight shooter," says Paul. "Joe loved people — and they sure loved him."

"He had guts," says Callahan, who wrote about Knox's maverick streak, including his refusal to support Otto Kerner, the party leaders' candidate for Illinois governor in 1960.
The Circuit Clerk Lookup System may be
unavailable periodically for maintenance.

All fees collected by the Circuit Clerk are mandated by law.

Main Phone
217 753-6674

circuitclerk@co.sangamon.il.us

The Circuit Clerk Lookup System may be
unavailable periodically for maintenance.

All fees collected by the Circuit Clerk are mandated by law.

Main Phone
217 753-6674
Contact Us by Email
circuitclerk@sangamonil.gov